WAA benefits for members include:
***Classes, Workshops & Demonstrations Suspended 18 March 2020 until further notice due to the Corona Virus (Covid-19) pandemic***
On-line Art Challenges are continuing for 2020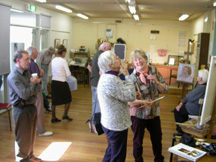 Classes, Members can choose from a wide range of classes in the fine arts and pottery, with expert tutors, at reasonable fees. For full details and the timetable just click on the Classes link at the top of the page.
Demonstrations, held regularly in our clubrooms, on a wide range of subjects by guest artists.
Paint-outs for members and their friends are held regularly at selected locations as a painting and social occasion.
Workshops are a popular weekly activity and include special interest groups of drawing, portraiture, and life drawing as well as general workshops in any media. The workshops are held in the club rooms, and while they do not include formal tuition, there is the opportunity for members to share ideas, knowledge and experience. Workshops are listed on the Classes timetable - just click the Classes link at the top of the page.

A Monthly Newsletter is posted or emailed to all financial members, giving up to date information about social news and activities, forthcoming Art Shows and other information. Art Shows arranged by the Association, are open to members at a small charge per painting entry, and provide an easy method for members to put their work in front of the public.
Members have free access to our excellent Library of books, magazines and videos on all aspects of painting, drawing, pottery and art in general.

A well equipped Pottery Studio is available for class participants to learn using our up-to-date equipment including rollers and wheels. Within the studio we also provide equipment and instruction for Mosaic Art.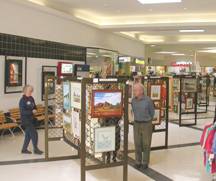 During the year we hold Art Shows for members to exhibit and sell their work. Our exhibitions may be located in public venues such as local galleries or shopping centres, or in our clubrooms with members of the public invited to attend. Many of our art shows are judged with awards for winning entries in various categories.
Art Challenges are a popular way for our members to expand their artistic horizons, and have included Black & White art, Pet Portraits, Abstract art, and Impressionism, including an exhibition with awards for those artists judged to have best met the challenge. Our Past Events and Archives pages show just what can be achieved!
The WAA Website Gallery provides the opportunity for members to display their artwork on-line to a wider audience. There is no charge to WAA members - details of how to submit works are published from time to time in the WAA Newsletter sent each month to all financial members.
Members can join in the following categories:
Individual - $20
Family - 2 adults and any children under 16 - $30
Junior - includes non-earning students - $8
Full details and conditions of membership are listed on the application form
which you can download here (fees current for 2021):
Membership Application (PDF format 111KB)
Copyright © 2020 Whitehorse Arts Association
All rights reserved.