In Memory of Peter Nattrass (2/9/29 - 26/7/16)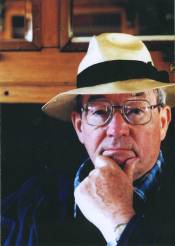 Members of Whitehorse who knew Peter are sad to hear that his very full life has come to a close, although there are only positives to remember. He put his whole heart and soul into this club and we owe much of our present success to his work. As artist, president and committee member he gave the club energy and drive over many years. He and Lois were so much a part of Whitehorse Arts in so many ways.
Apparently he was a bit of a devil as a father. His son David told of how, at 13 years, they would go together in the Valiant to the Forest Hill Chase on a Sunday morning, "to get the paper". "I was happy to go because I could get some more footy cards," said David. On the way home, Peter would get the 13 year old to drive. "If we crash, I'll just slip under you, and don't tell Mum ". When David was 18 years of age and taking a girl out, Peter said, "You'll need cash" so they sat down and they practised forging Peter's signature so David could use Peter's Amex Gold Card.
His family gave loving tributes and told many stories about him. Obviously, despite his many commitments – to College council, to the army, to many committees, he was a great family man.
My memories of him go back to the year he succeeded Mac Hill as principal of Burwood Teachers' College. On the evening when he was enjoying a restaurant dinner with his family to celebrate his new promotion, he was called away from the table to hear the news by phone that the College theatre was burning down. Quite an introduction to his new job.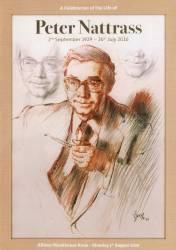 I used to sit beside him at staff meetings, taking the minutes. Some 20 years later, I accepted a role on the committee of Whitehorse Arts. Peter was president, and once again, ironically, I sat beside him taking minutes. We worked together on committee for several years until his hearing failed, and he took less of a role with the club. I see that as the onset of his Altzheimers. But I still shared his love of and interest in watercolour painting. Dot and I have three of his paintings on the wall of our Sorrento house. He was a polite gentleman, thoughtful in discussion, careful on decision making, protective of the club. Along with Kaele Way, he helped lift Whitehorse Arts out of a period of the doldrums. As a teacher, lecturer, principal, administrator, colonel, husband, father, grand-father and artist, he had much to be satisfied with in a most productive life.
Colin Browne.