WAA Pottery & Mosaics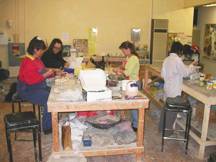 The WAA clubrooms include a well equipped Pottery Studio with up-to-date equipment including rollers and wheels.
Within the studio we also provide equipment and instruction for Mosaic Art.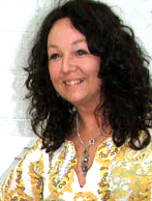 Our Ceramics and Mosaics tutor is professional artist Deborah Amon-Cotter whose own art in these media includes both functional and sculptural works, often combined.
One of Deborah's trademarks is her love of colour, and her own exhibited work features a combination of ceramics, mosaics, oil painting, gouache and ink. You can see some of her ceramics art in Gallery 5.
You can read more about Deborah on our Tutors Page - just follow the link at the top of the page.
The Debo Award
This award is presented to Deborah's most outstanding ceramics student for the year. The presentation ceremony includes an exhibition of pottery and mosaics at which our ceramic artists and students are invited to display their work.
Debo Award Winners from 2004:
2011: Margaret Clark
2010: Janette George-Shambrook
2009: Marita Roberts
2007: Tara Scott
2006: Trish Leary
2005: Kirsty Baxter
2004: Lois Nattrass
some of their work is included in the pottery & mosaics galleries.
Pottery & Mosaic Galleries
Copyright © 2013 Whitehorse Arts Association
All rights reserved.