WAA News & Coming Events

2020
NEWS FLASH!!! LOWER MEMBERSHIP FEES IN 2021!!!
WAA is now even better value in 2021 with membership fees halved for the coming year - just $20 for an individual, $30 for a family and only $8 for junior membership. See the Membership page for full details (the Membership tab is on the menu at the top of the page), download an application form, and join us as we look forward to the move into our brand new art studios in the New Year.
Sunday 17 January 2021 from 10 am
Plein Air Painting and Picnic
Tim Neville Arboretum
98 Dorset Road, Ferntree Gully, Vic, Australia
Here's our first event for for 2021! Please come along for a catch up with some old friends and enjoy a spot of painting at this picturesque location. BYO picnic and art supplies, hope to see you there! All welcome.
The Arboretum is approximately a 25 minute drive from our home base in Nunawading.
Directions: Go out Canterbury Road and turn right onto Boronia Road. Go to Boronia. Turn right onto Dorset Road. Note the signposted Tim Neville Arboretum at number 98. But go past the first parking area at the children's playground and turn next left into Francis Crescent to park in the second parking area.
WAA will be based under the octagonal pergola near the Francis Cres entrance. Look for the WAA sandwich board!
The venue is attractive with plenty of places for artists to spread out to a spot of your choice to paint or sketch. The park will be busy with families and children and dogs (on leads). Most of the families will be concentrated at the enclosed playground near the first carpark on Dorset Rd., where there are public conveniences and water taps available.
When? Sunday 17th January 2021
10.00 a.m. onwards for those who want to get some morning painting done.
12.00 Noon. Shared picnic and chat.
1-3 p.m. More painting/sketching for as long or as little as you want to.
What to Bring? Our Plein Air painting day is free and needs artists to be completely self-sufficient.
BYO /paints/easel/brushes/ sketch book, pencils/ pastels/seat or stool/ picnic rug /food/drink
You don't have to paint but don't forget sanitiser/ sunscreen/hat/insect repellent! Please note no tutoring will be provided.
Who can come? All WAA members welcome. Family and friends also welcome. Children can play safely in the enclosed playground. Information about WAA and how to join will be available.
COVID Restrictions. Please register your attendance in our roll. Maintain 1.5 metre distance even in the open air. Have a mask with you to use in areas where you cannot distance such as the public toilets! Sanitise after touching surfaces in public places. Do not attend if you are even slightly unwell or waiting for COVID-19 test results, if you are a contact of anyone who has COVID-19, or you have been in a hotspot. See DHHS website for daily updates.

*** Entries have now closed, results will be published soon ***

WAA Life Model of Excellence Award 2020: David Peake



Below are some of David's fabulous poses for the WAA life drawing workshops, drawn by Rosemary.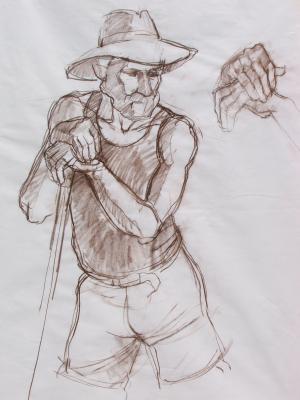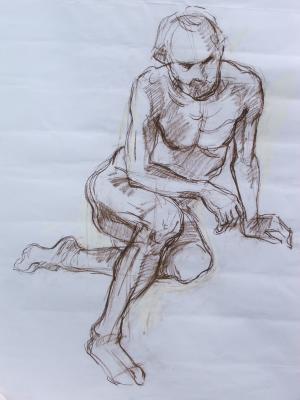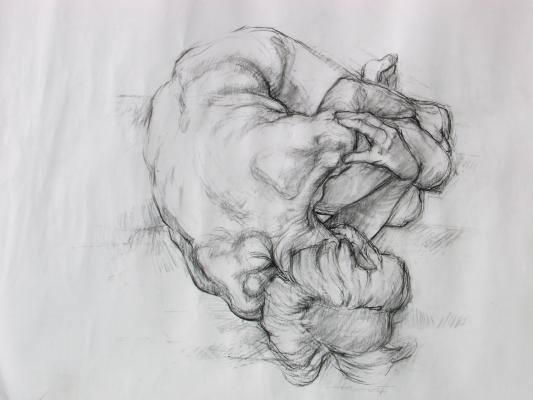 This is the wording on the Certificate of Excellence we presented to David. An Abridged version was engraved on the "Oscar"

In Praise of David

David has been part of our Whitehorse Arts Association Thursday afternoon life drawing family for ever.

He brings with him into our midst love, light and laughter. Working on either side of the drawing board as our model, or as a fellow artist David's pursuit of art is dedicated and serious.

As our model, David's unique signature poses are often (not always) an intricate tangle of bony arms and legs almost impossible for us to decipher. (David confesses he often includes extra arms and legs to confuse us!) With his most wonderful "Old Testament prophet's face", bony body and expressive hands and feet, these poses are the utmost challenge to our abilities and are always a joy and delight and inspiration to us. The one problem with these poses is David is not free to do a drawing of himself!

As a fellow artist David draws with dedication and love. The notable qualities of his drawings are their sense of gesture and movement, and particularly the varied and sensitive line quality they display. His drawings contain mark making at its very best.

As a friend David, with his generosity of spirit, simply by being David enhances our Thursday afternoons, and transforms them into an extraordinary shared art experience.

There are no words that are high enough praise to honour our beloved David and express what he means to us. We know he has inspired dozens of other artists all around Melbourne for years and years, but we still believe he is ours.

Thank you David.

Rosemary Price,
Coordinator,
WAA Thursday afternoon Life Drawing


WAA Public Art

: Our Artists in the Community

Jane Taylor

Can art add value to community life? I thought so, when I was recently asked to volunteer my contribution to a new café in a local nursing home. The Staff and residents at a Donvale Aged Care Facility wanted a café in their midst. With no extra space available, the staff decided to reconstitute a dining room, and to make it "different" they called it the "Flamingo Café". They then wanted a large wall hanging on the flamingo theme and asked me to volunteer an illustration to identify their space with a suitable painting.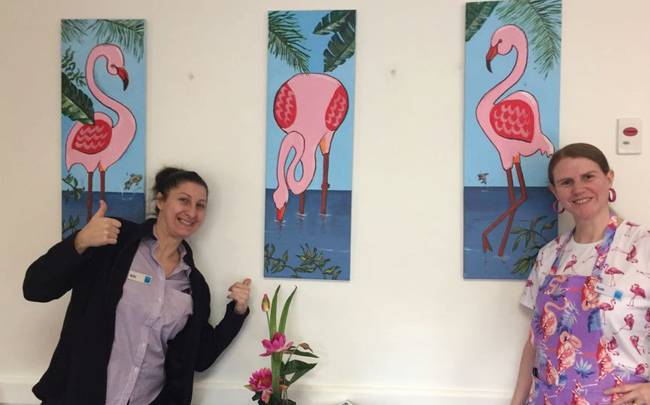 Flamingo Café triptych with staff members Nella (on left) and Ruth (on right)
Painting Flamingo Café by Jane Taylor
In consultation with staff, I produced a large clear graphic style triptych of three flamingos which residents now love. In my class with Alan Close, he contributed another light hearted suggestion: two comic smiling fish jumping at the flamingo's feet. The new "Flamingo Café" has proved a huge success. One with real barista coffee. Residents see it as a highlight of their week. Not only do they chat more with each other than when they are sitting in their usual lounges, but families can join them for coffee and hot chocolate. The "Flamingo Café" normalises their outing with art enhancing the space to make it appealing and above all "different".
Deborah Amon-Cotter
WAA ceramics and mosaics tutor, Deborah Amon-Cotter is also a painter with a vibrant style full of colour, joy and whimsy.
She

was

commissioned to help brighten up the City of Whitehorse, using this traffic light control box as her canvas - part of a public art project in our locality. This work is in Mitcham, on the corner of Whitehorse Road and Station Street, opposite the Post Office.
H
ere are some more images and close-up views of this work (all photos by WAA's Rosemary Price)

Click on images to view
For more information about any of our events please contact us, or visit us on Facebook