WAA News & Coming Events

2017
Demonstration &

Monthly Club Meeting

Once each month except January and December we hold a monthly meeting for all to meet with their fellow artists, enjoy guest speakers and demonstrations, and show and critique our work, etc.

Don't forget to support the "Trading Table" where donated items will be available at bargain prices. Each month we hope to have donated art materials and books, frames, household items, home made jams, in fact anything saleable that folk would like to donate to help raise money to go toward the cost of holding our popular demonstrations.

The venue is our clubrooms in the Nunawading Community Centre, Silver Grove, Nunawading, Victoria, Australia.

WAA Heritage

The WAA Newsletter for October 2016 includes a history of our association since its beginnings in 1963. There will also be a permanent link to this document from the About Us page. But from here you can click on the thumbnail image to find out more about us in words and pictures.

Coming in 2017
We will continue to offer a comprehensive program of exhibitions, demonstrations and special fun weekend workshops for you to try your hand at new and exciting art styles. And there will also be classes and workshops to help and inspire you with your artwork.

2017 Demonstrations
An exciting program of demonstrations by award winning artists will continue in 2017, usually held on the 3rd Saturday of each month, Feb to Nov. Watch this space for details, and be sure to check out the Recent Events Page for examples of what to expect!

Saturday 18th November, 2pm to 4pm
End of Year Art Show Featuring Fabulous Fakes
Members and affiliates are invited to enter two artworks in this judged art show. There are two sections: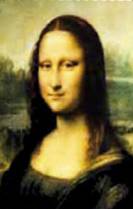 1. Fabulous Fakes - a copy of a famous artist's piece of art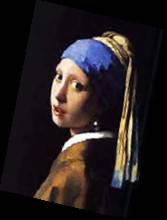 2. An original artwork - a painting or drawing in any medium
For full details and the entry form see your WAA October Newsletter. Prizes and award presentation at 3.15pm. Afternoon tea is provided.

Entry to the exhibition is FREE - ALL WELCOME - the venue is the WAA clubrooms in Silver Grove, Nunawading - see the map on the Home page
Lorraine Wigraft, Basic Painting Concepts Class
Term 3 for 10 Weeks, starts Friday 13 October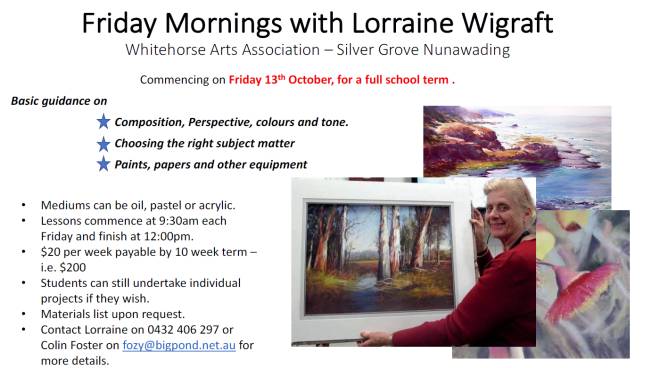 Deakin Community Awards for 2017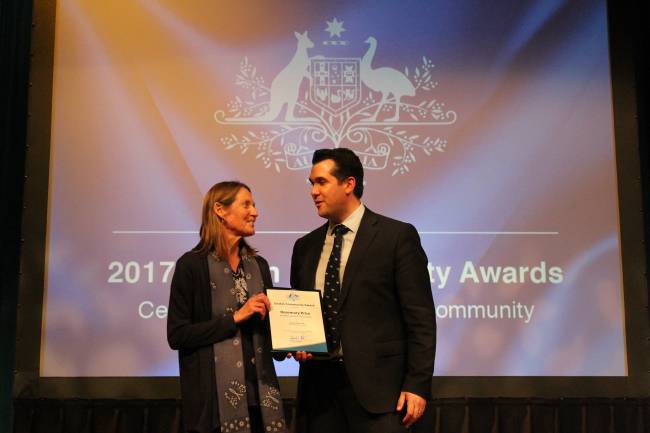 Presented by Michael Sukkar MP, Federal Member for Deakin to Rosemary Price of Whitehorse Arts Association Inc.
Explanation: Rosemary has been a leader within the Whitehorse Arts Association for at least 20 years, as Vice President, Committee member and Workshop Leader. Her background as an artist and teacher has led her to focus on accurate and expressive drawing, which she has shared with many members. Her positivity and encouragement have influenced both artists and models to participate in this creative pursuit. The community is privileged to have benefitted from her volunteerism.

Children's and Teens Creative Painting Classes
Susan Gustafson is now running a number of classes for our younger artists, for children aged 7 to 11 years on Monday and Friday afternoons, and on Tuesday afternoons for teens over 12 years. For times, details, and costs please check the Classes Page - the link is at the top of the page. You can also see examples of Susan's own artwork in the Artists' Galleries on this website.

WAA Public Art
WAA ceramics and mosaics tutor, Deborah Amon-Cotter is also a painter with a vibrant style full of colour, joy and whimsy.
She

was

commissioned to help brighten up the City of Whitehorse, using this traffic light control box as her canvas - part of a public art project in our locality. This work is in Mitcham, on the corner of Whitehorse Road and Station Street, opposite the Post Office.
H
ere are some more images and close-up views of this work (all photos by WAA's Rosemary Price)

Click on images to view
*** Deborah's popular Ceramics/Mosaics class

wa

s back

in

2015

/16

, and if there is sufficient interest we may be able to persuade her to run additional classes for us.




You can telephone her on 0411 035 994 for details and to register your interest. ***




Peter Nattrass, WAA ex-president and long term committee member of recent years has passed away after a battle with Alzheimers. He was a stalwart of our club over many years. Colin Browne provides this tribute to Peter: (please click image for more)

WAA Glen Park Mural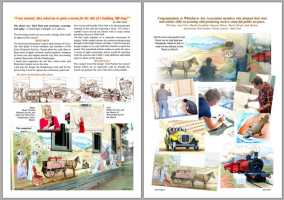 Club President Alan Close and a number of WAA members have been busy designing and painting a mural showing the history of the Glen Park area. We have included the full colour report from the June WAA Newsletter for your viewing pleasure and as a further example of the wide range of activities in which we are involved. Just click on the image to see more (PDF format, 227 KB.)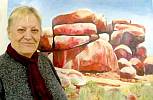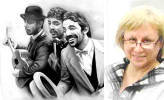 In 2013 we introduced our WAA Achievement Awards to recognize member artists for significant achievement in their art. To date these artists have been chosen by class tutors and the committee
(click the images for more):

Classes and Workshops
We continue to offer an extensive program of art classes and workshops catering to all levels of experience from the beginner to the accomplished artist. Click on the classes link at the top of the page for details.
For more information about any of our events please contact us, or visit us on Facebook