WAA News & Coming Events

2020
EXCITING NEWS DON'T MISS OUT ON THIS!
Hi everyone, I have some exciting news, due to the COVID restrictions our end of year art show will be by online entry, the same as you have been doing for our At Home Art Challenges.
IMPORTANT
The topic is "your favourite painting or drawing", and the important thing is that the painting you have done will be published in a 20 page Silver Grove commemorative booklet to celebrate Whitehorse Arts Association's 22 years at Silver Grove. We want all our members favourite artwork to be included in this special prestigious keepsake booklet. Your painting will be published in full colour and as well as this, all current member's names will be listed in the back of this booklet. We really want you and your art to be represented in this booklet. Your favourite artwork may be something you have done 5 or 10 years ago or something you have done just recently. You choose what to enter.
Entry for members is free. All you need to do is photograph and email your painting or drawing by November 30th 2020.
Don't miss out! If you have a problem with photography or email for your entries please contact me on 9803 6469, Alan Close WAA President.

NEWS FLASH!!! LOWER MEMBERSHIP FEES IN 2021!!!
WAA is now even better value in 2021 with membership fees halved for the coming year - just $20 for an individual, $30 for a family and only $8 for junior membership. See the Membership page for full details (the Membership tab is on the menu at the top of the page), download an application form, and join us as we look forward to the move into our brand new art studios in the New Year

Coronavirus (COVID-19) & WAA information from our Facebook Page
***COVID-19 UPDATE***
To all our members, the committee made the difficult decision tonight to suspend all classes, workshops and demonstrations at our Silver Grove club rooms effective immediately in response to the COVID-19 pandemic.
This decision has been made to safeguard the health and well-being of all our members as much as possible.
We are a long-standing art community, we know this will be difficult for so many members who enjoy the social interaction that our activities offer.
We encourage members to keep active with their art at home until we are back and please keep in touch online, especially if any members require support and assistance.
We will continue to update you with any developments as they unfold.
Stay well.
Please be mindful of the current advice in regard to personal hygiene and social distancing. More information about COVID-19 can be found here:

https://www.dhhs.vic.gov.au/coronavirus

WAA Public Art

: Our Artists in the Community

Jane Taylor

Can art add value to community life? I thought so, when I was recently asked to volunteer my contribution to a new café in a local nursing home. The Staff and residents at a Donvale Aged Care Facility wanted a café in their midst. With no extra space available, the staff decided to reconstitute a dining room, and to make it "different" they called it the "Flamingo Café". They then wanted a large wall hanging on the flamingo theme and asked me to volunteer an illustration to identify their space with a suitable painting.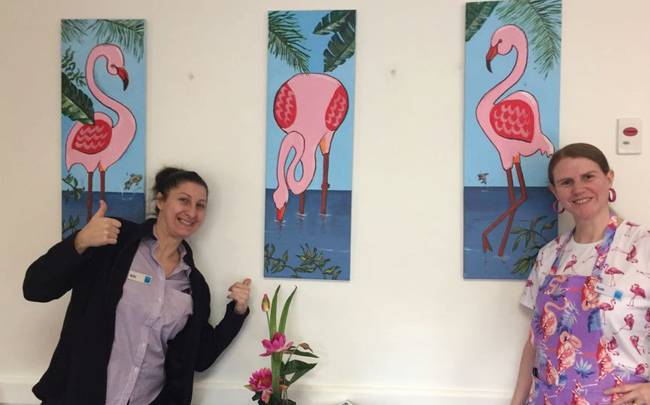 Flamingo Café triptych with staff members Nella (on left) and Ruth (on right)
Painting Flamingo Café by Jane Taylor
In consultation with staff, I produced a large clear graphic style triptych of three flamingos which residents now love. In my class with Alan Close, he contributed another light hearted suggestion: two comic smiling fish jumping at the flamingo's feet. The new "Flamingo Café" has proved a huge success. One with real barista coffee. Residents see it as a highlight of their week. Not only do they chat more with each other than when they are sitting in their usual lounges, but families can join them for coffee and hot chocolate. The "Flamingo Café" normalises their outing with art enhancing the space to make it appealing and above all "different".
Deborah Amon-Cotter
WAA ceramics and mosaics tutor, Deborah Amon-Cotter is also a painter with a vibrant style full of colour, joy and whimsy.
She

was

commissioned to help brighten up the City of Whitehorse, using this traffic light control box as her canvas - part of a public art project in our locality. This work is in Mitcham, on the corner of Whitehorse Road and Station Street, opposite the Post Office.
H
ere are some more images and close-up views of this work (all photos by WAA's Rosemary Price)

Click on images to view
For more information about any of our events please contact us, or visit us on Facebook