WAA News & Coming Events

2021
NEWS FLASH!!! LOWER MEMBERSHIP FEES IN 2021!!!
WAA is now even better value in 2021 with membership fees halved for the coming year - just $20 for an individual, $30 for a family and only $8 for junior membership. See the Membership page for full details (the Membership tab is on the menu at the top of the page), download an application form, and join us as we resume activities in our brand new art studios in 2021.
Saturday 17th April 2021 Maxine Wade Workshop
Watercolour Landscape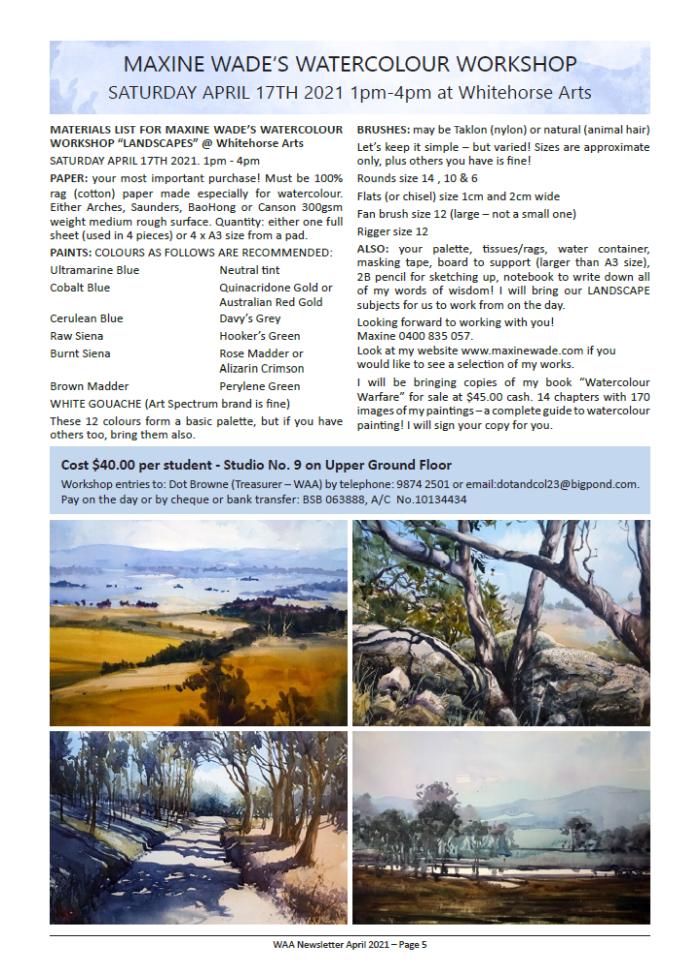 Notice of 2021 Annual General Meeting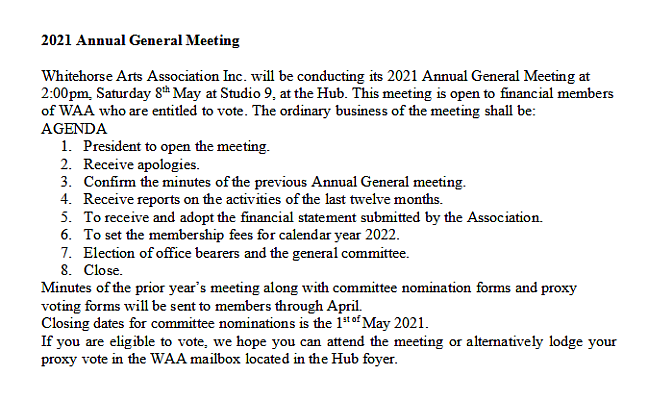 David Peake - A Tribute
It was with great sadness we received news from David himself last September of his devastating diagnosis of motor neurone disease. With great sorrow just these short five months later we received the news from David's family of his death on Saturday 20th February 2021.
It is so very hard to comprehend this remarkable, kind, humble, funny, gentle, generous, clever man will no longer walk into our studios with his laughter and warm caring presence.
Yet we will always remember him. David is not one to ever be forgotten! We will always reflect upon our good fortune to have had him in our lives. It has been an absolute privilege to have known him and to have had him share and enrich our lives. His friendship has been a source of great joy to us.
David, as a dedicated artist with a passion for drawing, continued to produce beautiful drawings throughout his illness until he was no longer physically able to do so.
Our hearts go out to Robyn, Christian, Dominic and all of David's family. With very deep tenderness, dedication and gentleness and love this beautiful, beautiful family nursed and cared for David at home throughout his entire illness. David died peacefully at home surrounded by his wonderful family.
David wanted no fuss to be made at his death. He is having no funeral. Therefore I sought permission from Robyn to write this for the WAA Newsletter, Facebook page and website.
We love you always David.
Rosemary Price on behalf of the WAA Life Drawing group.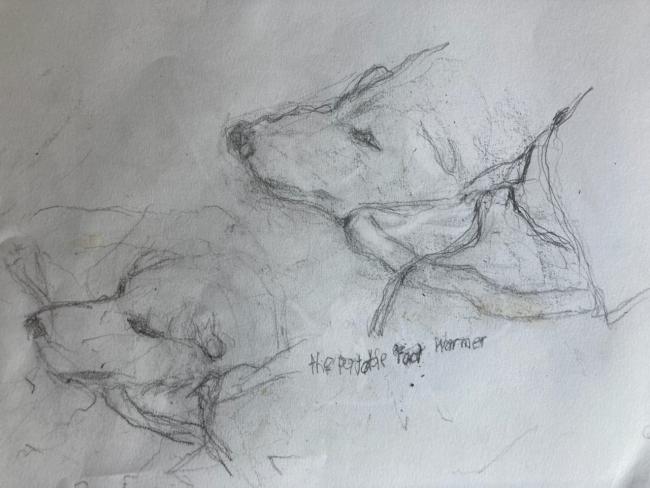 David Peake: Portable Footwarmer, Charcoal on Paper 2021 (David's dog Molly)
Life Drawing Workshop recommenced Tuesday 9 Feb 2021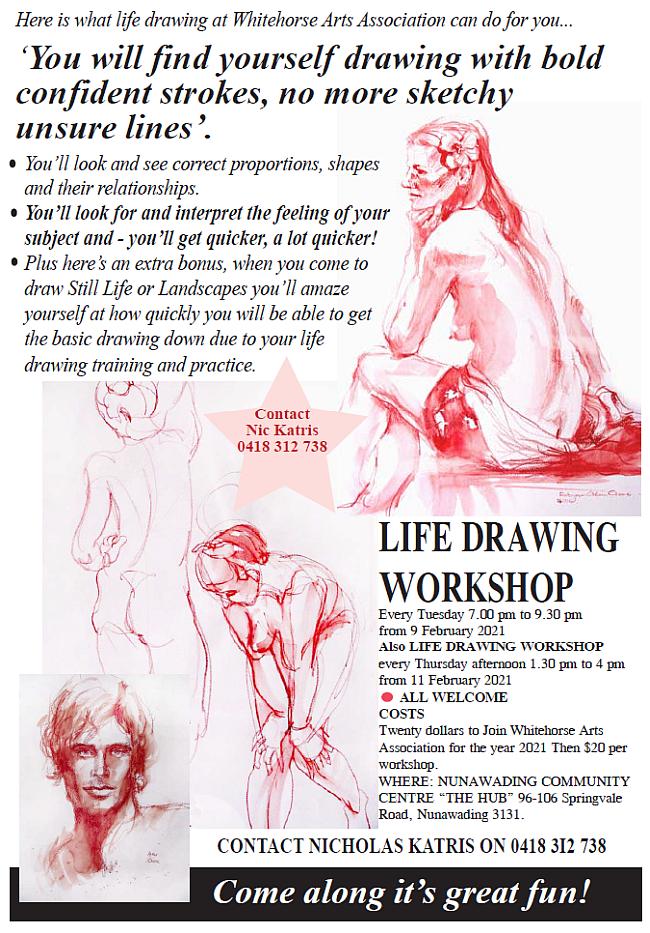 Discover the magic of Watercolour - Wet in Wet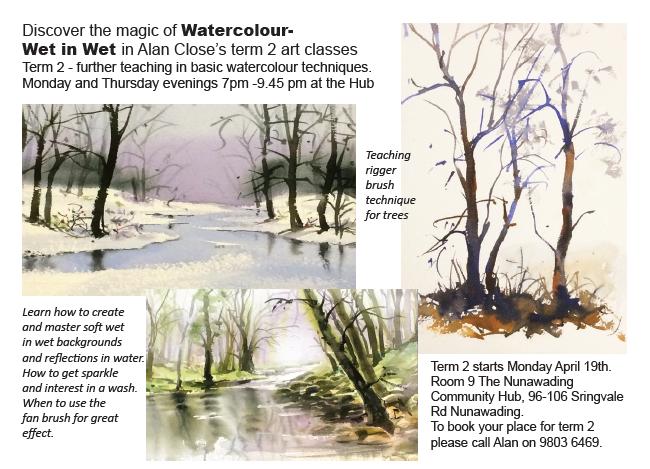 Art At Home Challenge No 6 Expressionism
Closing Date extended to Saturday 24th April 2021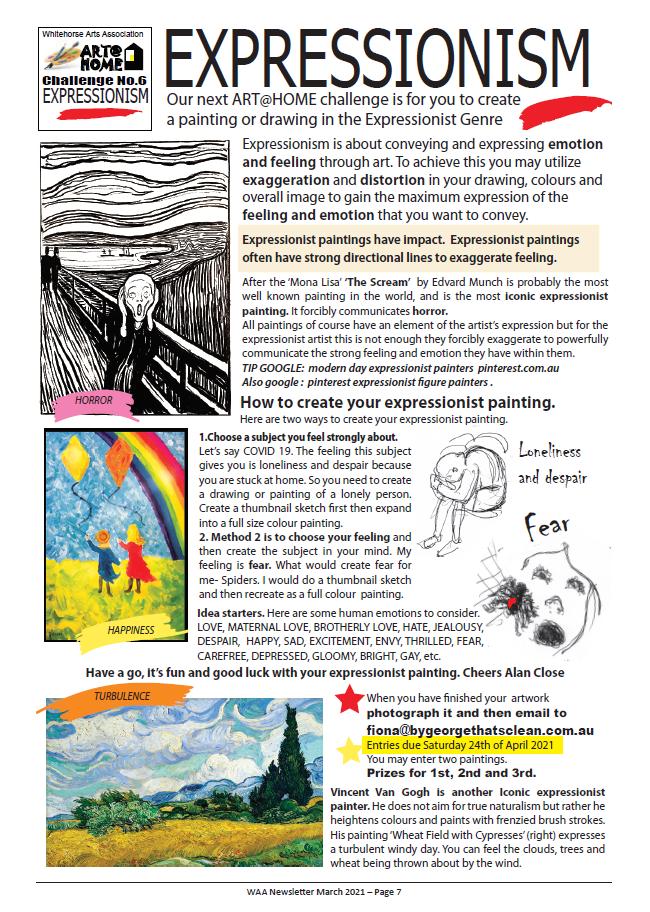 WAA Public Art

: Our Artists in the Community

Jane Taylor

Can art add value to community life? I thought so, when I was recently asked to volunteer my contribution to a new café in a local nursing home. The Staff and residents at a Donvale Aged Care Facility wanted a café in their midst. With no extra space available, the staff decided to reconstitute a dining room, and to make it "different" they called it the "Flamingo Café". They then wanted a large wall hanging on the flamingo theme and asked me to volunteer an illustration to identify their space with a suitable painting.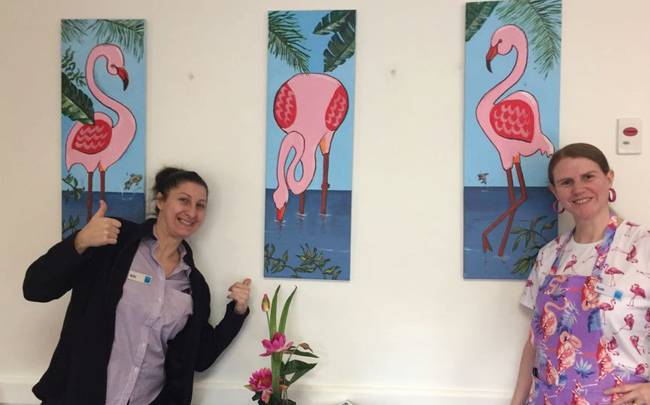 Flamingo Café triptych with staff members Nella (on left) and Ruth (on right)
Painting Flamingo Café by Jane Taylor
In consultation with staff, I produced a large clear graphic style triptych of three flamingos which residents now love. In my class with Alan Close, he contributed another light hearted suggestion: two comic smiling fish jumping at the flamingo's feet. The new "Flamingo Café" has proved a huge success. One with real barista coffee. Residents see it as a highlight of their week. Not only do they chat more with each other than when they are sitting in their usual lounges, but families can join them for coffee and hot chocolate. The "Flamingo Café" normalises their outing with art enhancing the space to make it appealing and above all "different".
Deborah Amon-Cotter
WAA ceramics and mosaics tutor, Deborah Amon-Cotter is also a painter with a vibrant style full of colour, joy and whimsy.
She

was

commissioned to help brighten up the City of Whitehorse, using this traffic light control box as her canvas - part of a public art project in our locality. This work is in Mitcham, on the corner of Whitehorse Road and Station Street, opposite the Post Office.
H
ere are some more images and close-up views of this work (all photos by WAA's Rosemary Price)

Click on images to view
For more information about any of our events please contact us, or visit us on Facebook