WAA News & Coming Events

2019
Demonstration &

Monthly Club Meeting

Once each month except January and December we hold a monthly meeting, usually on the third Saturday of the month, for all to meet with their fellow artists, enjoy guest speakers and demonstrations, and show and critique our work, etc.

NOTE: There will be no 3rd Saturday WAA club meeting in November 2019, instead we are holding our major end of year exhibition over the 4th Saturday and Sunday, see below for details.

Don't forget to support the "Trading Table" where donated art magazines and books will be available at bargain prices. Each month we hope to have donated art magazines and books that folk would like to donate to help raise money to go toward the cost of holding our popular demonstrations.

The venue is our clubrooms in the Nunawading Community Centre, Silver Grove, Nunawading, Victoria, Australia.

2019 End of Year Exhibition 23rd & 24th November

New for 2019 our End of Year Art Show will be held over two days:
Sat 23rd November 2pm-4pm, the official opening with prizes and awards will be at 3.15pm, plus afternoon tea; and
Sun 24th November 10am-4pm.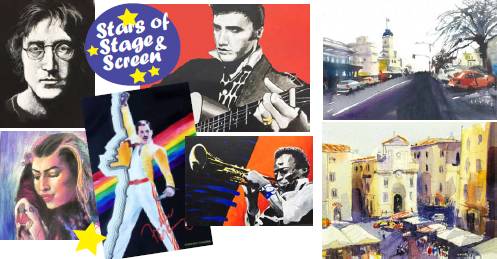 There will be two sections featuring the work of WAA members:
1. any artwork in any medium
2. paintings of "Stars of Stage and Screen" any medium.
If you are a member of WAA and wish to enter work, please see the entry form in your October Newsletter. The closing date for entries is Monday 18th November.
Entry to the exhibition is open to the public free of charge, all welcome, and there will be artworks available for you to buy.
The venue is the WAA Clubrooms, rear Nunawading Community Centre, Silver Grove, Nunawading, Vic, Australia.

Coming in 2019
We will continue to offer a comprehensive program of exhibitions, demonstrations and special fun weekend workshops for you to try your hand at new and exciting art styles. And there will also be classes and workshops to help and inspire you with your artwork.
Painting Classes
We have day and evening painting classes with expert tuition to suit everyone, adults and young artists, whatever your preferred media or subject. Details of all our classes and workshops are on the classes timetable page - just click on the Classes link at the top of this page.
The venue is our clubrooms at Whitehorse Arts Association, Nunawading Recreation Centre, 16-20 Silver Grove, Nunawading, Victoria, Australia.

Beginners Painting Classes - Mondays with Susan Gustafson
Term 4 2019 - 7 Weeks, October 14, 21, 28, November 11, 18, 25, December 2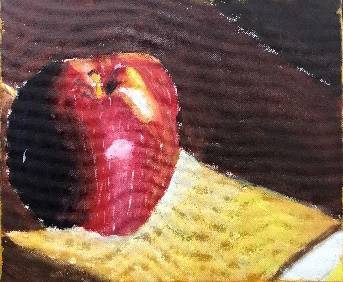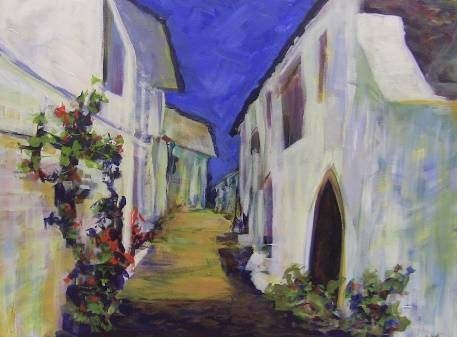 Adult Classes – Beginners Acrylic Painting $252 per term (3 hour class time, Monday 10-1pm)
Children's Painting Class $210 per term (2 hour class time, Monday 4-6pm)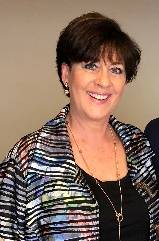 Susan is an accomplished Artist who has been painting and exhibiting for over 40 years. She is a member of the Whitehorse Arts Association and the Contemporary Art Society of Victoria.
Adults and Children will learn the basics of how to start a painting, with an emphasis on colour mixing, tonal value and its importance, composition, negative space, right and left brain, art therapy and much more.
For more information or to book yourself a place please call Susan Gustafson – Art Tutor 0481 396 596
The classes are held at the WAA Clubrooms at Silver Grove, Nunawading, Victoria, Australia.
Friday Mornings with Lorraine Wigraft

Why not join our Friday morning painting class. Non-members are welcome, and our award winning artist Lorraine Wigraft will provide expert tuition in oils, pastels or acrylic media, at our clubrooms - Silver Grove, Nunawading, Victoria, Australia.
See our classes page or download the flyer for more details
(pdf file 127 KB opens in new window )

Pottery and Mosaics Class
Our popular tutor is ceramic artist Deborah Amon-Cotter and her class is held on Wednesday evenings - follow the Classes link at the top of the page.

Workshops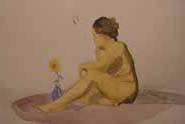 We have a number of workshops where members can use our studios to practice their art. On Tuesday we have day-time sessions where our artists can work with their choice of media and subject, and on Wednesday morning we hold a portrait workshop where a volunteer sits for us. We also have two life drawing workshops held Tuesday evening and Thursday afternoon for artists who wish to develop their skills in depicting the human form. Professional life models are hired for these sessions.
The venue is our clubrooms at the Nunawading Community Centre,
Silver Grove, Nunawading.
Please email us for more details - click on the Contacts tab at the top of the screen.


2019 Demonstrations
Saturday 19th October 2019, 2 pm to 4 pm
Alan Close, Drawing Demonstration & Workshop
WAA President and popular tutor Alan Close will do this combined Drawing Demo & Drawing Workshop. All welcome, see you there!
PLEASE ARRIVE EARLY AS THE DEMO STARTS AT EXACTLY 2PM. DON'T MISS THE START OR YOU WILL MISS THE INSTRUCTION.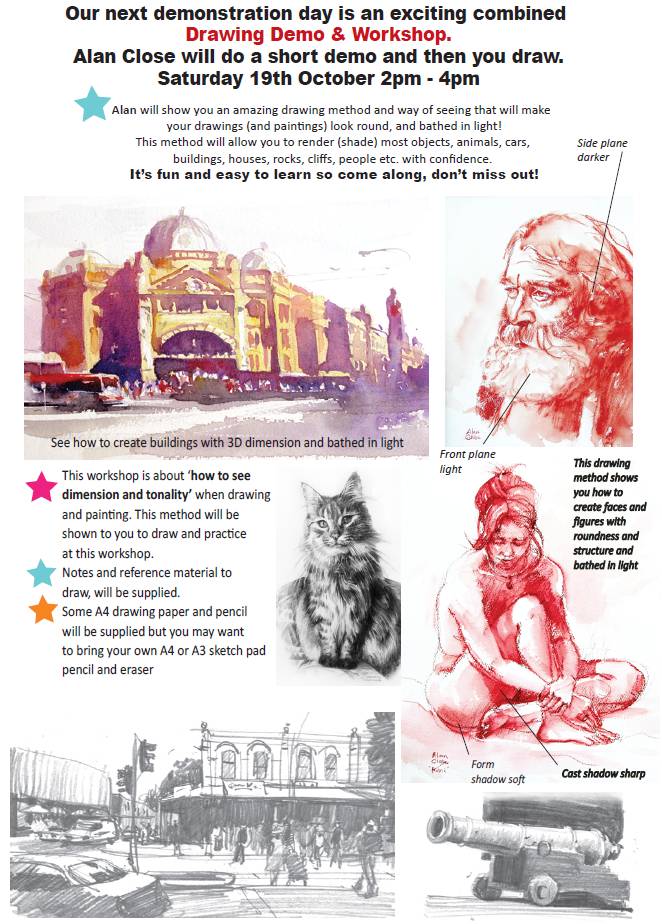 The venue is the WAA clubrooms in Silver Grove, Nunawading - the modest entry fee incudes a delicious afternoon tea.
WAA Public Art

: Our Artists in the Community

Jane Taylor

Can art add value to community life? I thought so, when I was recently asked to volunteer my contribution to a new café in a local nursing home. The Staff and residents at a Donvale Aged Care Facility wanted a café in their midst. With no extra space available, the staff decided to reconstitute a dining room, and to make it "different" they called it the "Flamingo Café". They then wanted a large wall hanging on the flamingo theme and asked me to volunteer an illustration to identify their space with a suitable painting.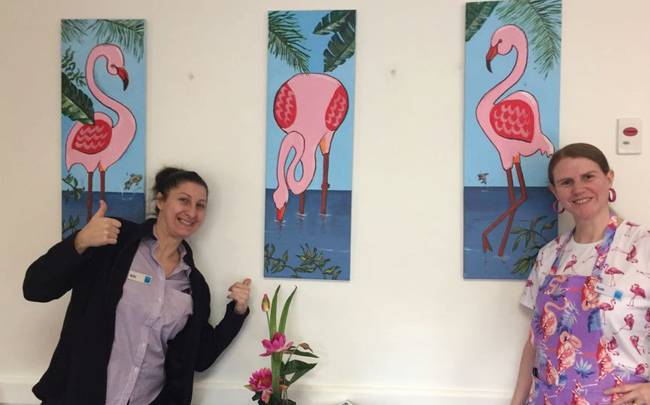 Flamingo Café triptych with staff members Nella (on left) and Ruth (on right)
Painting Flamingo Café by Jane Taylor
In consultation with staff, I produced a large clear graphic style triptych of three flamingos which residents now love. In my class with Alan Close, he contributed another light hearted suggestion: two comic smiling fish jumping at the flamingo's feet. The new "Flamingo Café" has proved a huge success. One with real barista coffee. Residents see it as a highlight of their week. Not only do they chat more with each other than when they are sitting in their usual lounges, but families can join them for coffee and hot chocolate. The "Flamingo Café" normalises their outing with art enhancing the space to make it appealing and above all "different".
Deborah Amon-Cotter
WAA ceramics and mosaics tutor, Deborah Amon-Cotter is also a painter with a vibrant style full of colour, joy and whimsy.
She

was

commissioned to help brighten up the City of Whitehorse, using this traffic light control box as her canvas - part of a public art project in our locality. This work is in Mitcham, on the corner of Whitehorse Road and Station Street, opposite the Post Office.
H
ere are some more images and close-up views of this work (all photos by WAA's Rosemary Price)

Click on images to view
For more information about any of our events please contact us, or visit us on Facebook