WAA Art Class Tutors
Deborah Amon-Cotter (Pottery and Mosaics, Painting and Drawing)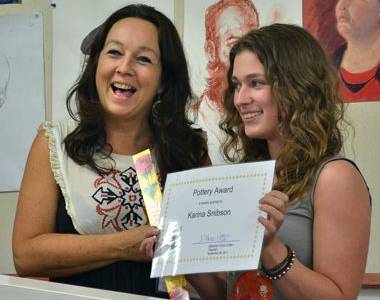 Deborah (at left) presents the annual Pottery Award to one of her students

Deborah earned her Batchelor of Arts (Ceramics) & Painting, Drawing and Printmaking at Victoria College, Prahran, followed by a Diploma of Education. She has been WAA's pottery and mosaics tutor for some years, where she is a popular teacher. Some of the artworks created by her students, as well as her own works, are featured in the Artists' Galleries on this website.
Deborah's work has been included in many group shows and she has had several solo exhibitions, including those at Wyreena Community Arts Centre, Feedwell Cafe and Maenad Art. Her work is also exhibited at the Red Lion Gallery, Sunderland Bay, Phillip Island, and has appeared in a number of publications and books. She has completed a number of ceramic pieces in the Whitehorse area, including four bollards at the two entrances to the Burnt Street Playground. Deborah has worked as "Artist in Residence" at a number of schools throughout the City of Whitehorse, appointed by the Whitehorse Council.
Follow the Classes link at the top of the page for Deborah's class timetable and to enquire or enrol in her class.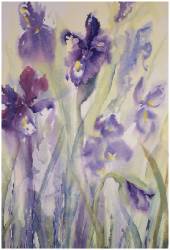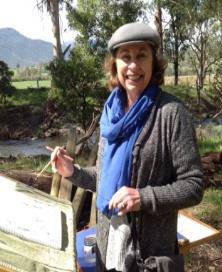 Irises Blowing in the Wind
Antoinette is a past Vice President of AGRA, the Australian Guild of Realist Artists, a member of the Victorian Artists Society, Watercolour Society of Victoria, Sherbrooke Art Society and Whitehorse Arts Society.
She is currently teaching watercolour painting at Olinda Community House, Sherbrooke Art Society and as of 2016, here at Whitehorse Arts Society.
Antoinette has won numerous awards with her work, represented around Australia, New Zealand and overseas.
Read the full report with images from her WAA demonstration in November 2014:


whitehorsearts.info/1411demo.htm
You can also find out more about Antoinette and see more of her work on her website at:
www.antoinetteblyth.com
or read her CV and latest 2021 course outline (PDF file 317KB) at right
Alan Close (All Media)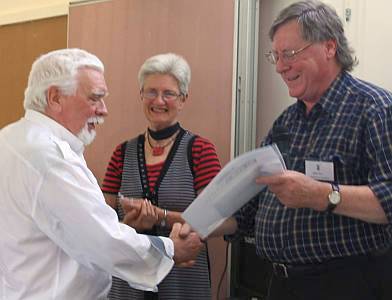 Alan (at right) presents an Award at a recent Black & White Challenge which he regularly runs for WAA
Alan Close is an Artist /Illustrator with over 40 years experience.
He was for a number of years Art Director with Hallmark Cards and is experienced in fine art, design, photography, illustration, and mural art.
Alan is currently a Tutor and President of Whitehorse Arts Association and is responsible for setting up training programs for Artists. He is the founder of the Artstream program for developing Artists at Whitehorse Arts Association and Glen Park Community Centre and currently tutors also at Monash University Short Courses. He has tutored specialist drawing courses at the Australian Guild of Realist Artists Melbourne and is also a demonstrating Artist and judge for various regional Art societies.
He has been described as a gifted encouraging tutor with a diverse knowledge of art.
Alan teaches all mediums and his favourite subjects range from:
realist painting, figure and portraiture, Impressionism to Abstract Art.
You can view some of his work in the Artists' Galleries and elsewhere on this website.
Alan is very enthusiastic about his highly successful family portrait program. "It has a 96% success rate where even beginning artists produce wonderful portraits of family and friends". Alan says over 300 portraits have now been completed giving lots of joy to families.
Follow the Classes link at the top of the page for details of Alan's timetable and to enquire or enrol in his classes.
Greg Allen (Watercolour Classes)

Venice, Watercolour, Greg Allen
Greg Allen is one of Australia's foremost watercolour artists.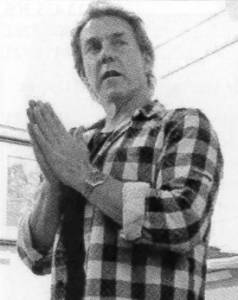 He has won the prestigious Camberwell Rotary Art Show prize on several occasions. His work is represented in many international galleries. He is a remarkable teacher who can analyse and explain the features of composition and technique which contribute to excellence.

Follow the Classes link at the top of the page for details of Greg's timetable and to enquire or enrol in his classes.
Susan Gustafson (Children's & Adults Creative Painting Classes)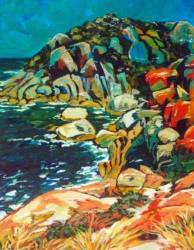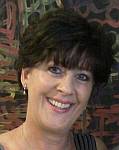 Susan Gustafson's painting career has developed over 35 years. In 1987 she relocated to London, UK and studied Textile and Decorative Art at the Camberwell College of Art and Design and was then accepted into the Chelsea College of Textile Design. In 1988, Susan held her first solo exhibition in Covent Garden, London, UK titled, 'Australian Birds', which was supported by the Australian Art Foundation.
Susan successfully exhibits throughout Victoria, interstate and overseas. She has been the recipient of many awards and prizes during her career. Susan is a current member of the Contemporary Art Society of Victoria as well as the Whitehorse Arts Association.
Wilson's Promontory, Impasto & Acrylic, Susan Gustafson
Follow the Classes link at the top of the page for Susan's class timetable and to enquire or enrol in her class. See more at her website http://www.sgcreate.net/
Lorraine Wigraft (Pastels, Oils & Acrylics)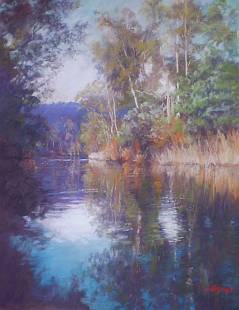 Lorraine Wigraft is a very experienced and highly regarded award winning artist who exhibits at Victorian Artists Society and teaches very successful classes there. Her work has been featured in Australian Artist and International Artist magazines. She is competent in all media, but specializes in pastel.
Her beautiful pastel painting at right was awarded "Best Landscape - Any Medium & Priced $1,000 and Under"at the 2012 Camberwell Rotary Art Show.
River Reflections, Pastel on Paper, Lorraine Wigraft
Follow the Classes link at the top of the page for Lorraine's class timetable and to enquire or enrol in her class.
Copyright © 2013 Whitehorse Arts Association
All rights reserved.