Demonstration on Saturday 20 August 2022
Watercolours with Rob Candy
Rob Candy was a most impressive demonstrator, and we have had several good ones to compare him with in recent weeks. He is a jovial confident personality, and he gave a great performance. He had a plan of his talk on a slip of paper, like a muso with his running sheet for his concert. And he checked the items off from time to time.
He came early to set up and considered his options in this unfamiliar room. Unlike previous demonstrators he decided to work from the middle of the audience facing the screen, a good move as his back did not then shield his work from part of the audience.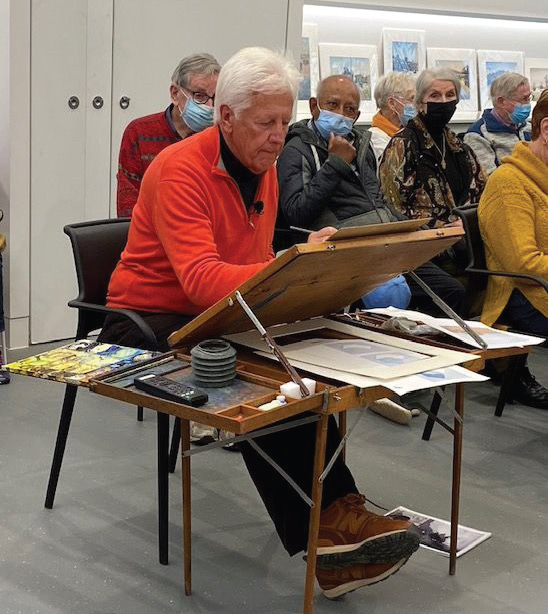 He had as his theme "Travels with Watercolour" and around the room had placed dozens of examples of scenes he had done around the world. Translucent, fresh, loose, fluid works. Some were framed, others in self-made albums. The display was quite remarkable. His watercolour skills came to the fore in his sensitive washes, accurate drawing and use of white paper for highlights. Quite beautiful, very extensive. I personally identified with his folio of Candi Dasa, Bali and its spider boats as I have tried to draw them myself, often, as we have a timeshare there. He has led painting tours to all parts of the world.
His career has included a stint as president of the Watercolour Society of Victoria and Australia, teaching, traveling, exhibitions, competitions and many awards.
Impressive also was his equipment. He had fold out palettes and containers to suit every situation, from large to tiny. One could imagine him even painting on a plane.
Part of the repertoire in his job is to be happy for people to watch him work. He said that you have to have a stock of ready-made drawings in your head, a cow, a horse, a dog, a boat and a person. He proceeded to show how to do a cow. A square first then the bits. Then a car, then a boat, perfectly confident in his ability to draw these basic shapes. It is so useful when you travel.
He then got down to his feature painting. It was to be a country scene outside of Canberra, rather bare sheep flats with a shearing shed, a dunny and a couple of sheep. He said that we need to get depth into it so he sketched in some perspective lines. To give depth he showed a bit of the front of the shed and drew one sheep a bit larger than the other on the perspective lines.
Next he discussed applying colour. You need a plan of action: three washes, light, middle tone and dark. Your palette must give access to enough paint for the size of the painting. Mix enough before you start.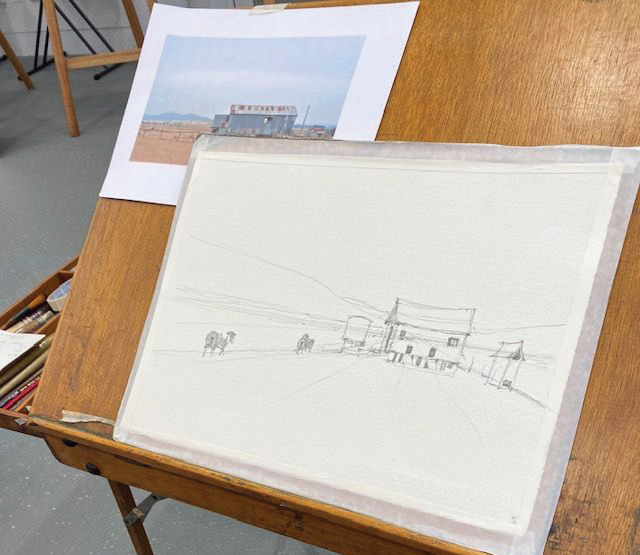 With his board on a 450 degree angle he spread clear water down the sky to the dry edge of his drawing and made a blue wash. A bit of gradation to red. With a tissue he made a few clouds. A simple effect but it works. In the field he did much the same with a bit of umber which made a green.
A swipe of dry brush left some white paper which could be later used for the tops of some weeds. Tapping a brush of clear water made some deliberate cauliflowers to give a bit of texture suggesting grass. The result was loose and fresh, not overworked.
After the tea break he put in the mountains, shed, sheep etc. The illusion of depth was enhanced by keeping distant objects soft-edged but close objects sharp and strong coloured. He almost finished the whole picture before doing the final sharp details. He advised keeping your favourite bits until last.
At one stage he looked up from his work. There was absolute silence. " I thought everyone had gone home," he said. The fact is that to watch a master craftsman intent on his work is absolutely absorbing. Thank you Rob.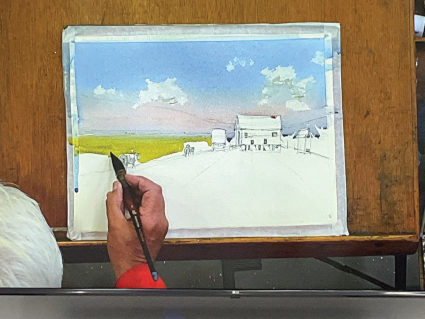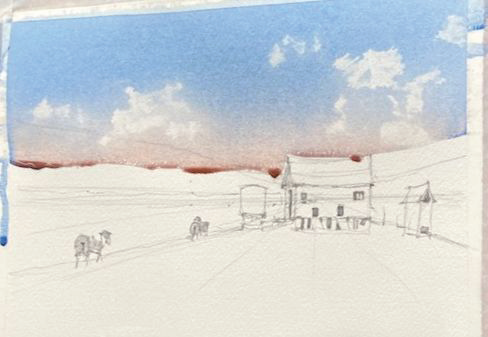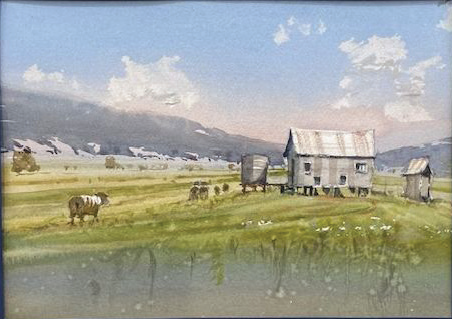 Report by Colin Brown
He says "I am a lover of landscapes and places, being passionate to record them in watercolour – not only the stunningly beautiful, as in the case of Sydney Harbour, but also the ordinary, such as an urban lane or old farm shed.
Painting exclusively in watercolour, I enjoy the challenge of laying transparent watercolour washes on rough paper and allowing the medium to dictate the outcome. I use watercolour due to its portability, allowing me to paint in situ.
Rob Candy began painting watercolours at Ku-ring-Gai Art Centre in Sydney with Owen Thompson and at the Royal Art Society with Frederick Bates OAM. He has a degree in Geography, which informs his analysis of, and appreciation for the landscape.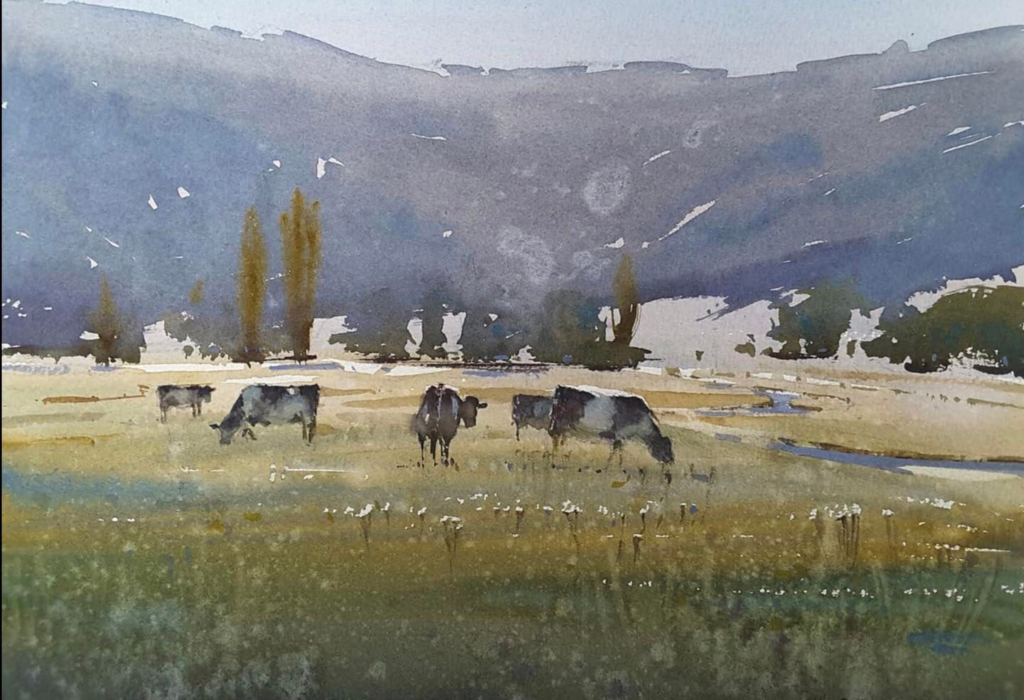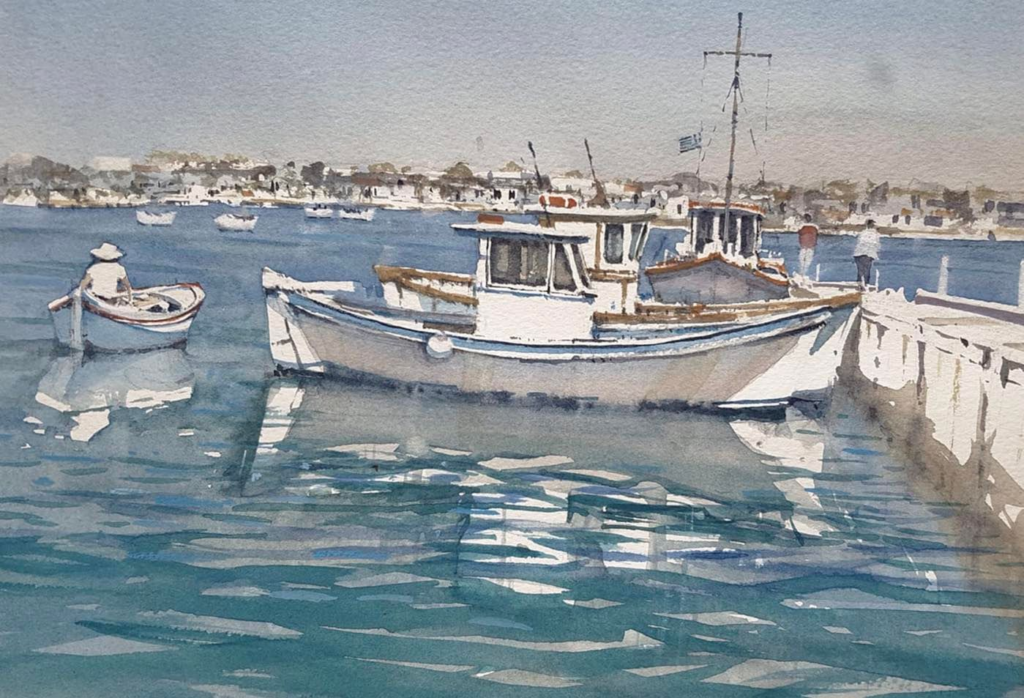 Since 2005 he has taught painting at Ku-ring-Gai Art Centre Sydney and he conducts workshops throughout Australia. A passionate traveller, he las led, both as guide and tutor, numerous watercolour tours. His visit to Normandy culminated in a solo exhibition with the them of the fishermen of Honfleur, France.
Wow, this demonstration was amazing and a full report will appear in our next Newsletter.