Six Art Societies Demonstration
Saturday 30 April 2022, Bayswater Scout Hall
This was a co-operative event shared by six art associations in the eastern suburbs including our own Whitehorse Arts Association. It was in a rather tiny Scout Hall surrounded by scouting memorabilia. Each group set up a table to show their credentials and publicity materials. The other clubs were Sherbrooke Art Society, Society of Folk and Decorative Artists of Victoria using recycled materials, Ferntree Gully Art Society, Ringwood Art Society and Emerald Art Society. The afternoon was sponsored by Artshop.Com.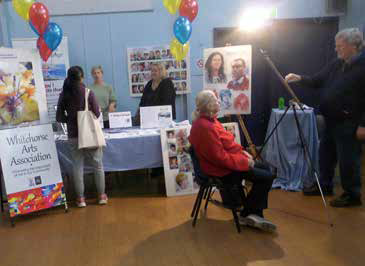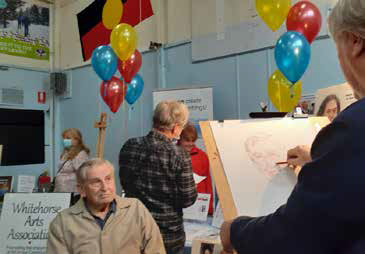 About fifty interested people from the various clubs came to watch demos and talk to each other about their art interests. Our Alan Close did two portrait demos using watercolour pencil in monochrome (cadmium red mid) softened in parts with a brush and clear water. Colin Browne sat first, then after a break, Lorraine Wigraft sat. There was keen interest from the bystanders. Alan achieved very good likenesses.
Other artists were doing oil landscapes, pastel, lino cut prints, watercolour pictures and so on. It was a busy little room.