It Hao Pheh, Watercolour Demonstration Saturday 16 June 2022
As many of you may know, It Hao Pheh recently joined the WAA 'family' as our watercolour tutor, running the Monday evening class. It Hao was born in Penang, Malaysia. He has travelled extensively and lived abroad, studying and working, for many years, before settling in Australia in 2010. He currently lives close by in Mt Waverley.
It Hao has won numerous awards and accolades for his artwork, too many to list here, but I will mention he was awarded the Camberwell Rotary Art Show, Best Traditional Work Valued Less than $3500, in 2017. He is well-established as an artist and teacher of watercolour and drawing.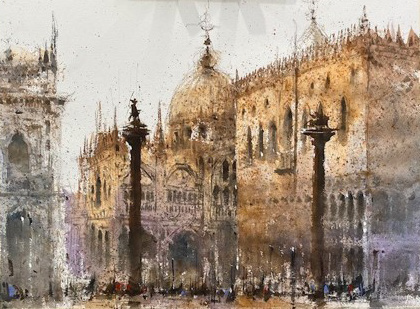 It Hao told us his favourite subjects to paint are old buildings and architectural subjects – especially old European churches buildings. He admires the history and workmanship of the amazing colonial buildings in Penang. He also paints landscapes and seascapes. He used to do a lot of miniature paintings, influenced by his friend Michael Freshwater. It Hao entered work in the miniature painting exhibition held by the National Trust at Como House in 2021. He has also previously worked in oils, collage and mixed media.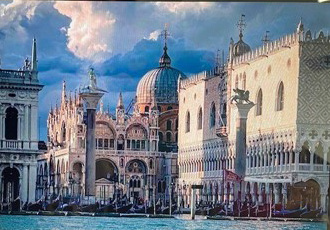 It Hao takes lots of reference photos, often going out and about with three cameras. His reference image today is a photo of an ornate old church in Venice. It was taken at the end of the day and has lots of shadows. It Hao said he loves working on a full sheet of watercolour paper, as it allows him to fully explore the imaginative possibilities. He is using a full sheet of 300gsm Arches rough watercolour paper.
He starts with a quite complex and detailed drawing, his experience working as an architectural draughtsman really coming to the fore. He said he prefers to draw looking directly at the subject or reference. The drawing is a very important component of his watercolour work. He began by roughing in the main shapes and proportions using a Pitt pastel pencil #177.
It Hao was asked whether he did any special preparation to the paper, did he wet it or stretch it beforehand? No, he is using dry paper and has simply taped it around the edges to a board. He said there is no specific style or process you should follow. Do what works for the situation.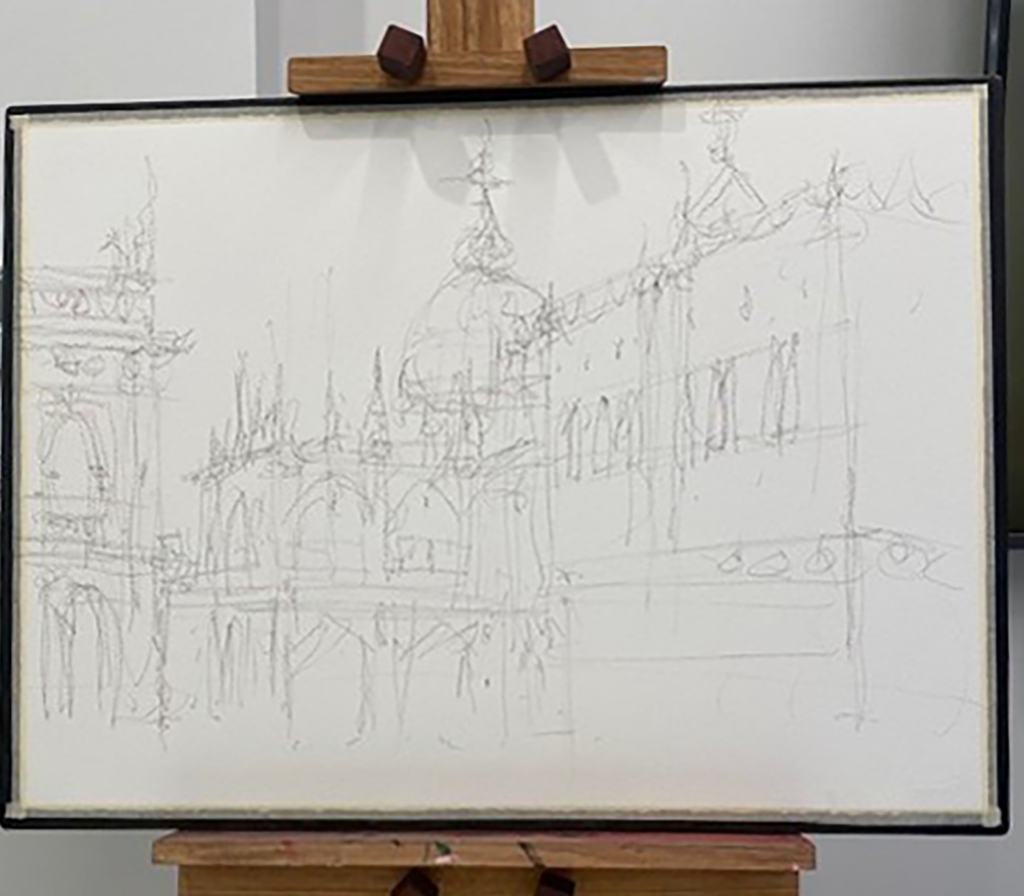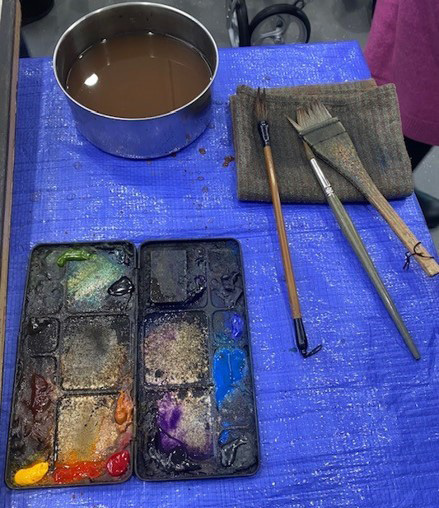 People were curious about his palette. He said he has used the same palette for 40 years and cleaned it only once in that time, much to the amusement of the audience. He said it is best to use good quality paints. His personal preference is for Schminke paints, as he loves the transparency of them. He was less particular about brushes. He said he tends to only use two or three brushes, no matter what size the paper. Today he was using a mid to large hake brush, which was quite old and worn, missing some of it's bristles, as well as a long pointed Chinese calligraphy type brush.

With the drawing done, It Hao used a warm orange-yellow colour and a fairly dry brush to start creating a texture effect on the wall of one of the buildings. He then lightly sprayed it with water, not too much, to soften the effect. Then he applied a rich purple for the shadows lower down the building, using very loose and rough strokes, both wet and dry, using the wide brush, to build the layers of the painting. Next he added some blue, and a soft reddish brown. Fiona remarked that he was using complementary colours from the colour wheel – e.g. purple and orange, and he agreed he does that quite deliberately.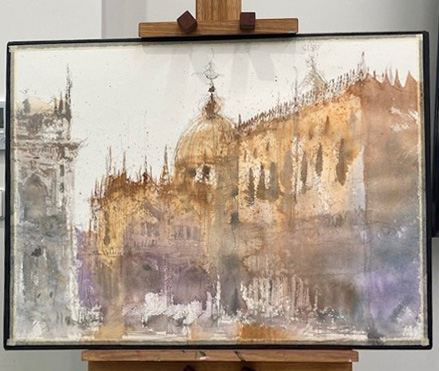 As some areas are drying he begins putting in more detail on the church, using the long pointed Chinese brush. Between layers It Hao employs quite a lot of spatter technique, flicking tiny drops of paint onto areas of the painting. This has the effect of softening the look of the paint beneath and also of giving depth, age and an impression of layers building up. It is also good for masking mistakes. He is philosophical about mistakes, being confident that he can nearly always rescue painting from failure and has often revived paintings he had put aside when he felt they weren't working.
He also continues to spray water over the painting periodically, again to soften harsh edges and create paint flow. It Hao said 'touch dry' is the best time to work over already painted areas. He gradually builds up the layers of colour, texture and detail. After a break for a lavish afternoon tea, the raffle draw and a bit of a natter, the group reconvened to see It Hao finish off his painting. Thanks once again to all the people who brought a plate to share. Adding the shadows and details of the architectural features of the buildings, It Hao used sienna and Paris blue for the darkest shadows and added the two sculptures on tall pillars in front of the building, immediately increasing the feeling of depth in the scene. Finally a little bit of Titanium white and lavender was used straight from the tube to add some opaque highlights and sparkle.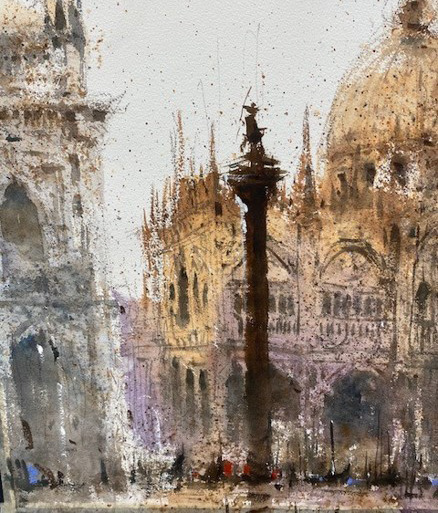 What a magnificent demonstration from an engaging artist, who kept us enthralled not only with his masterful painting but also with his amusing travel anecdotes and simple philosophy of making use of what you have.
Report by WAA Secretary Kelly Grace