Jacqueline Zimmerman
I was born in the Highlands of Scotland where, as the saying goes "even the sheep are lonely". My earliest memoirs are of changing seasons, colours , temperatures and the wonder of nature, which was for the most part untamed. Drawing, painting and making things was my number one interest all through childhood.
At school, it was a given that Art would be my favourite subject. This led to my going first to Study Interior Design. However, I quickly felt restricted in this course and made the move to undertaking a four-year Art and Design Honours Degree at Edinburgh School of Art. During this time, I studied all aspects of Art, but ended up specialising in Woven Textile Design, texture and colour being the main drivers.
Post university, my career in Textile Design has taken me to multiple countries both to work and visit, including the Middle East and South Africa. To be able to develop textiles from scratch, I have also spent a lot of time in Asia and Europe. This travel has been instrumental in my understanding that Design and Painting are heavily influenced by the light and climate of a place.
Mid 90's, I arrived in Australia to work, first for the Fashion Industry and then began to work in Jacquard Manufacturing here in in Melbourne. Although I have loved my career, the stress of 12 –14 hour days, constant deadlines and budgets did not leave much energy to be actively creative outside of that field.
While on holiday in Egypt, I had an epiphany. The emptiness I was feeling inside was the lack of time to do my own artwork. During all this time spent in the business world however, I have continued to study the history, development and emotional effects of colour in the creative context.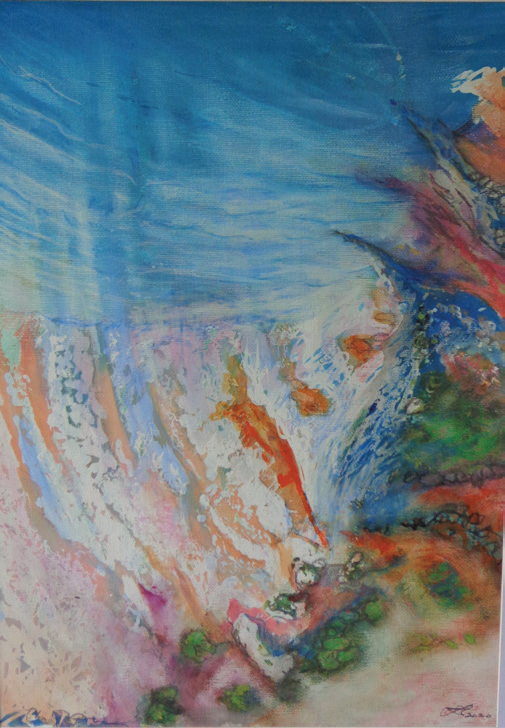 On returning to Melbourne, I started working part time and started to explore painting again purely for its own sake.
This is where joining the WAA comes in. It has provided me with a friendly, safe, stimulating and nonjudgmental environment to stretch my wings.
Meeting up with like-minded people has been fantastic.
The competitions, exhibitions and demos are also great and I recently sold my painting "Storm on the Horizon" at the Whitehorse Artspace, Town and Country exhibition.
I am now retired and enjoying every moment of my new lifestyle.