Natalie Doubrovski
First of all, I feel very privileged and grateful to be nominated for this title.
I was born and grew up in Moscow, Russia, surrounded by rich art culture where I was introduced to, and developed my love of art. My Draftsman TAFE Diploma that I received after finishing school, gave me fundamental skills in drawing and appreciation of architecture and history of arts. However, my dream was to become a Medical Doctor and after graduating from a medical school I worked for a few years as a doctor before immigrating to Australia.
I came to Australia with my husband and two little daughters in 1992. At that stage I had very limited command of English and my Medical Degree was not recognised. Building a new life in Australia included learning a new language, finding a new occupation and embarking on additional studies and working at the same time with people with physical disabilities as well as living a normal life as a wife and a mother. Since 2001 I started my work as a Radiographer in hospitals and private practices.
My father's death in 2009 triggered a desire to paint. I started looking for art supplies, and it was there, where someone suggested to me to join a community art group.
In 2010 I joined the Box Hill Art Group for one semester and then was part of the Whitehorse Art Association for many years. Alan Close was my tutor during these times and I am so grateful for everything I learned from him. I also have been attending the Box Hill Art Group since 2017 where I enjoy Craig Rawlings' classes. My art journey also included going to art workshops, artists' demonstrations and watching YouTube art videos so I can practice and apply various new skills.
Over the years, I have participated in many group exhibitions and had two personal ones. I won a few prizes and awards and sold many of my works.
I tried many different media but still can't find my favourite. I think that drawing is the most important skill for any artist. In painting, I lean towards acrylic. I love mixed media and more contemporary styles and I am pushing myself to be looser in my art creations. My favourite subjects are portraiture and figure drawing, including life drawing, as well as cityscapes.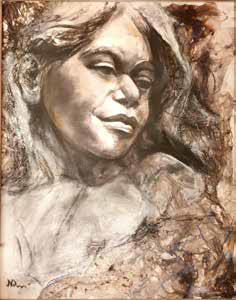 Two years ago, I felt I was ready to share my skills with people who want to learn creative arts.
I now run classes for a little group of
students in my home studio and, also, this term I started tutoring in Box Hill Art Group.